Lafayette Memorial Stone and Marker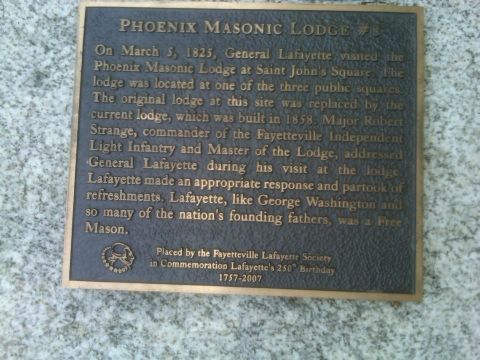 TRANSCRIPT OF MEMORIAL STONE PLACED AT PHOENIX LODGE NO. 8 BY THE LAFAYETTE SOCIETY IN 2007.
            On March 5, 1825, General Lafayette visited the Phoenix Masonic Lodge at Saint John's Square. The Lodge was located at one of the three public squares. The original Lodge at this site was replaced by the current Lodge which was built in 1858. Major Robert Strange, commander of the Fayetteville Independent Light Infantry and Master of the Lodge, addressed General Lafayette during his visit at the Lodge. Lafayette made an appropriate response and partook of refreshments. Lafayette, like George Washington and so many of the nation's founding father, was a Free Mason.
Placed by the Fayetteville Lafayette Society in Commemoration of
Lafayette's 250th Birthday
1757-2007