William Rufus DeVane King
7 April 1786 - 18 April 1853
13th Vice President of the United States; Signatory to the Constitution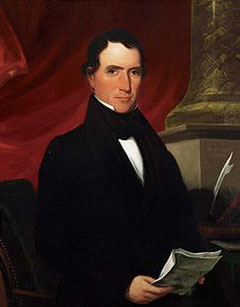 William Rufus Devane King was born in China Grove, Samson County, North Carolin on 7 April 1786.  He was a graduate of the University of North Carolina in 1803, studied law, and was admitted to the bar in 1806.
     He was elected to receive the degrees of Freemasonry on 15 December 1807.  King was initiated an an Entered Apprentice on 17 December 1807 (also cited as April 1808), passed to the degree of Fellow Craft on 3 (5) May 1809, and raised to the sublime degree of Master Mason on 15 December 1810, all in Phoenix Lodge No. 8, Fayetteville North Carolina.
     King served in the North Carolina State Legislature from 1806-1809.  From 1810-1816 he was a United States Congressman.  In 1816 he resigned from Congress to accompany the delegation of William Pinkney to Naples and St. Petersburg.  In 1818 he returned to the United States and settles in Alabama, where he co-founds and names the city of Selma.
From 1819-1844 he was a United States Senator from the State of Alabama. 
     From 1844-1846 King served as Minister (Ambassador) to France under President Tyler.  He again served in the U.S. Senate from 1848-1853, serving as president of that body in 1853.
     King was a signatory to the U.S. Constitution and was one of the longest serving Senators in U.S. history.  In Baltimore, Maryland on 5 June 1852, he was the first incumbent Senator to be nominated by the Democratic National Committee for the office of Vice President with principle duty to preside over the Senate.  In November of that 1852 he won that office.
     In deteriorating health, he went to Cuba looking for a cure and was there sworn into office as Vice President to President Franklin Pierce by a special act of Congress. 
     After returning to his home in Cahawba, Alabama, he died on 18 April 1853 before having a chance to serve his term and the country he loved.
     King is buried in Selma, Alabama.